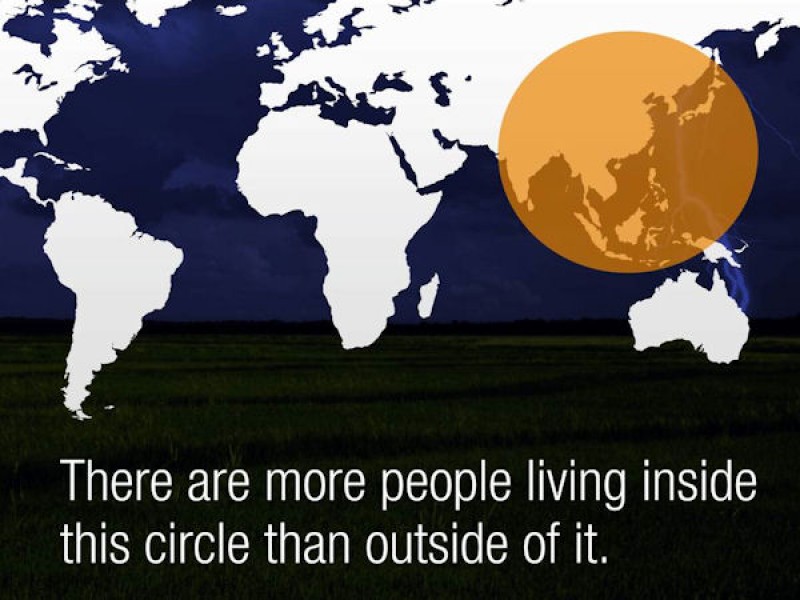 Change is the Only Constant
I am just back from a trip to Thailand and meeting my new client from Kuala Lumpur. It reminded me of some statistics presented by William El Kaim, Marketing Technology Director, Global Product Innovation, Carlson Wagonlit Travel. I had invited William to make the opening presentation of the WTM Travel Innovation Summit in Association with TTI at this year's World Travel Market. The statistics were preceded by the slide you see above, emphasising how the world is becoming Asia centric. This is the region which will account for the majority of growth in travel over the next two decades. The statistics mentioned were:
The world economy is projected to be about 80% larger in 2020 than it was in 2000.
World total population will increase from 7 to 8.3 billion people in 2030.
Asia, Africa, and Latin America will account for virtually all population growth over the next 20 years.
The middle class is expected to reach 5 billion people by 2031, up from 2.1 billion people in 2011.
The world is changing. At the Summit, Richard Lewis, CEO Best Western Hotels, distinguished between Digital Immigrants and Digital Natives. If you are over 20 years old, you are a Digital Immigrant.
If you are working in the travel industry, you are now serving a fast-changing population. Digital Natives incorporate technology into their everyday lives. They multi-task, use many sources of information, like to be socially connected. Their path towards a holiday purchase or any other goal is less likely to be linear compared to us Digital Immigrants. Your business needs to gear-up to serve this upcoming market.
In my Genesys Session on Content, Tony Samios, Chief Operating Officer of Caliber stressed that great content – the information you provide to turn lookers into bookers – in now about great storytelling. This was backed up by Debbie Hindle, Managing Director of fourbgb, who in my Social Media Masterclass talked about socialising the marketing funnel by telling your story.
During the WTM events I organised, we also touched on mobiles, tablets, phablets and the new areas of wearable technology and gamification. David Slocombe, Head of Mobile, lastminute.com was wearing and demonstrating Google Glass for his presentation at the WTM Travel Innovation Summit. For many, this was the first opportunity to see a person wearing the technology. If it takes off, it could have major implications for the promotion of local attractions and services. Just by walking around, you will be presented with useful tourist information but I would also expect you to be inundated with adverts for local restaurants, discount vouchers for shops nearby and so on. Google may be first off the block with Glass but I would expect others to follow. Samsung has launched its Galaxy Gear smart watch in time for Christmas, why not Galaxy Specs by next year?
Gamification is slowly infiltrating everyday life. You may not even realise it. For example, in our Nissan Leaf electric car, the more carefully you drive the more quickly you can grow "eco-trees" on the instrument display. FourSquare was early in with its app encouraging you to 'check-in' to earn badges. Car navigation app Waze (just bought by Google for around $1bn) allows you to earn points and get promoted up the Waze user hierarchy. Expect gamification to increasingly move into travel.
I have just touched on a few of the hot topics that are or will be affecting the travel industry in the next year or so. The world around us is changing fast and that rate of change is only going to accelerate. Five year business plans are thing of the past. Two year rolling plans might just be possible. As we move into the future, the only constant is going to be change.
You can view some of the presentations and videos of my WTM Genesys Sessions at www.genesys.net/wtm2013/ .